A lot had to be done today, but when did that ever bother anyone getting their stomachs full and tastebuds stimulated?
After an early rise, a group of us headed out to the field at 8 AM to capture imagery from the drone, while the others stayed back at the schoolhouse to finish testing the soil samples collected earlier at the Sólheimajökull glacier. Being part of the group on the field, I was flying the drones through the flight paths we had previously made to capture two different types of imagery, Visual Lens Imagery (VLI) and Near Infra-Red (NIR), of the sites of interest. We planned to use the imagery captured from the drone flights to analyze the sites further, which would give us information regarding earlier settlement on the sites; for instance, the NIR imagery allows the camera of the drone to visualize the land in terms of colors that the average human eye cannot detect and thus, it proves to be useful for detecting differences in vegetation of the land.
Following the morning session of flying, we headed back to get some lunch and were already expecting a great meal based on what we were served yesterday, but our expectations were again exceeded with amazing food: beef meatballs with cheese, white rice, salad, creamy cheese sauce (I don't know the name but it's really good, I swear!). Given the satisfaction earned from this meal, we were determined to finish all the remaining work we had, so we headed back onto the field and stayed till 5:30 PM, with some delays experienced due to technical difficulties with one of the drones.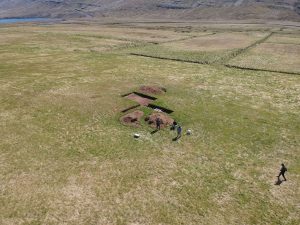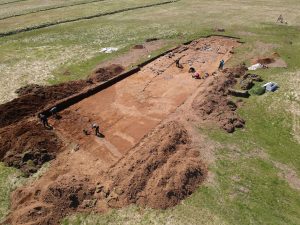 Further proof of hospitality we received from Stodvarfjordur: Brekken offered to serve us dinner when they learnt that we will not be around for lunch tomorrow! And guess what? We stuffed ourselves again with the delectable pizza we were served. To finish off the day, our beloved faculty leaders E & C gave a brief presentation in the schoolhouse about the whole project, with the main audience being the local crowd.