Today was our last day at Skalanes, which is always a bit sad. After spending a wonderful week here doing science, hiking, cooking, and eating together with a group of students from Scotland we are packing-up to head back West for a couple of days in Reykjavik before the program ends on 23 June. Did I mention Fyrir the amazing dog? And Oli and Rannveig the wonderful hosts? We also work with Oli and Rannveig on a couple of science projects related to ecology and archaeology.
Early this morning was a scrum of packing, eating, making lunches, cleaning-up, and saying goodbye. Our travel plan was a trucks to take the gear to the first river, people hiking there, and then a bus to Seyðisfjörðurand and over the Fjarðarheiði mountain pass to the airport in Egilsstaðir. At approximately 10:00 GMT the group found itself completely packed and ready to go, at which point they realized they did not need to leave until 11:00. One of the leaders, who shall remain anonymous, had never been ready ahead of schedule before and feinted from the shock. Hilarity ensued and we Euchre and Carcassonne until it was time to leave.
The trip was uneventful other than the bus trip from RKV airport to the hostel, construction at the hospital has changed the bus route so rather than knowing where to disembark (12 people with baggage and 10 cases of science gear and samples) we were a bit lost. Fortunately a very helpful local explained where we could get off that would be close to our lodgings.
And here are a couple of pictures from Skalanes, which is a place that pictures can hardly do justice to.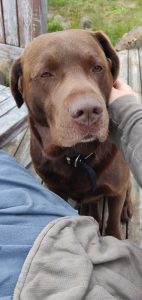 Fyrir, local security.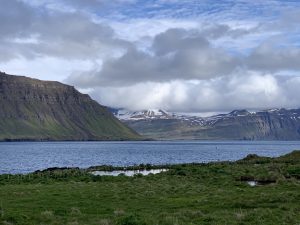 View to the North from the house.