Today is a quite busy day for everyone. After the script designing and drone flying, I experienced working in a group of four with Sydney, Kaela and Kathryn to take soil samples at two different spots. One next to the coast close to the birds' habitat, the other one on both sides of the waterfall close to our camping site. The group work was divided efficiently, Kathryn and Sydney took all the samples, Kaela put the data into the database and I am in charge of taking bird view pictures of the sample site with Kari.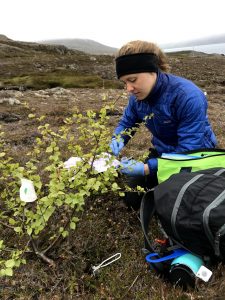 We took all the samples under the area covered by a tree crown, the trees we met here are 50 cm tall in average, no more than 2 meters, even if they've been growing for a decade or more. For each sample taken under the tree, we took a control group sample on the ground away from the tree. I assume the analysis of the sample can show the difference of the soil affected by the tree or not.
In order to get to the other side of the waterfall, instead of going all the way down, we chose to cross the river directly. The river is wider than it looks from above, it is also harder to cross than I expected. Yet everyone got excited crossing the river as it reflected a great group work between us and marked our job in the afternoon is halfway done, and we made it!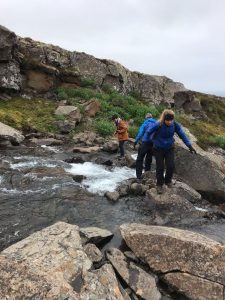 The whole process took longer than we expected, but everyone feels perfect after the task been accomplished. I am glad to see that we can work so well in as a group to contribute to the project, I also feel more bonded with my beloved team members.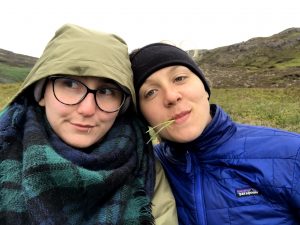 On the other hand, the drone flying group is also having a hard day, lots of flight plans need to be finished which cover a large area. Especially Jordan is almost having a non-stop. Cheers to super hard-working Jordan!
It's all worth it when we were rewarded by Charlie's roast lamb at dinner 😉