Hello faithful blog readers. Today was pretty foggy, so we were unable to fly any drones due to condensation on the electronics. However, folks got other projects to work on like analyzing the data we had already collected and working on monitoring the flow of one of the rivers, to assess its potential for hydropower. The fjord is beautiful in the fog, though, and many of us appreciated it by taking hikes, both long and small.
An exciting test pit was dug – over 1 meter of soil was removed from a square meter of land in a known previously habitated site at Skálanes. Óli and Rannveig worked hard to excavate the area, and then we took 13 samples – one for every 10 centimeters. We hope to measure the amount of sheep DNA in each layer – we assume that settlers brought sheep with them, and so sheep DNA should be present in habitated layers and not present in layers that are not habitated. We're also working to identify the tephra layers (soil horizons which were layed down by volcanic eruptions). It's not clear out here which layer is which.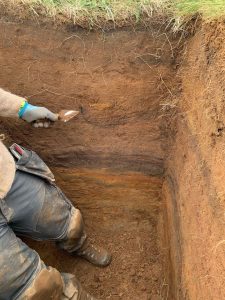 Tomorrow is Icelandic Independence Day! We will continue to collect soil samples and drone imagery in the morning, since it is supposed to begin to rain in the afternoon.