o On the archeology front, Rannveig found this article about the possibility of a new Viking site being excavated in Newfoundland. They must have stopped along the way from Scandinavia, and Skalanes seems like a nice place for that. Who knows what we'll find.
o Nic has made some progress with LIDAR, although the gear is proving to be a bit delicate. We'll probably order a second unit to work with. Here is an early image taken during today's meeting. The unit is on the round table, on Nic's screen is the developing point-cloud of the room and contents. If you look very closely you can see people on couches (/very/ closely…)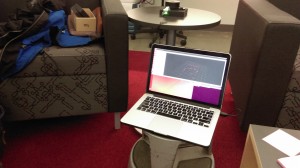 o We need to sort a magnetometer before long, hopefully Patrick can loan us one.
o On the logistics front we need to make plane reservations fairly soon. All the lodging and transportation is sorted modulo the ferry to Grimsey, we'll just wing that early in the morning of the day we travel.
o I started working with our Yocto altimeter recently, we'll use this as part of the kit that provides more accurate x, y, and z geo-coordinates than consumer grade GPS chipsets alone do.
o Kristin and I worked through most of the details of the interface between FieldDay and the Arduino based sensor platforms. Here is a schematic of it, off to the left is the Postgres database where FieldDay pushes readings in CSV form.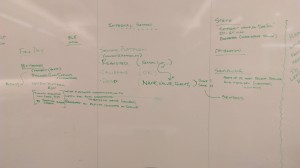 o I think it's time we started the Iceland16 playlist, it looks like Spotify is currently the most popular platform for doing so.