BLE Shield
The Makershed BLE shield I ordered arrived this week! My plan right now is to use this shield on the temperature/moisture sensor designed for use in the field. The field sensor will look a lot like soil platforms we have used in the past with the addition of an IR sensor for measuring temperature of the soil. I have ordered a small IR sensor that I am expecting to arrive soon. To test it's accuracy I will use a fluke IR thermometer as a benchmark.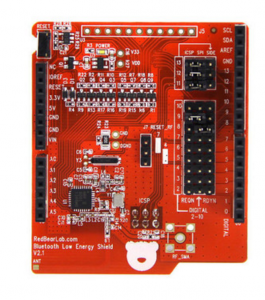 I am pretty new to Arduino development so I have been reading up on how to interface a BLE shield with an android application. I downloaded the BLE libraries for Arduino. Now I am trying to think about how my sensor will interface with Field day. I want a reading to come up on the screen as it is taken so that the user can confirm data is being recorded in the app.
The next thing to consider is the casing for the platform. I think the 3D printed 'flask' idea from the first Iceland trips is pretty solid and I would like to do something like that again. I would also like to case the outside of a plastic case with rubber to make the flask more impact resistant if it is dropped.
Laser Diode
The laser diodes arrived this week. I will begin prototyping the optical density sensing rig this week in lego.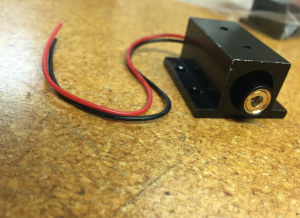 Spectrophotometry
There are some interesting commercial solutions for near IR component analysis. One is the Scio – a kick starter project that has now gone into production. The Scio goes into the near IR range and comes with a developer SDK that would allow us to test it on soil and interpret the spectral results based on known soil composition and Mike Deibel's more advanced IR sensors. There is another option called Tellspec but it seems much more closed-source.