On Monday June 11, we journeyed to our home for the next week or so, Skalanes! We had to check out of the hostel in Egilsstaðir by 11:00 am, but our ride to Skalanes didn't leave until 5:30 pm, so we had some free time in town. Emi, Charlie, Arlo, and Dan met with a group of professors and students from various universities at the Salt Cafe to discuss overlapping research interests. Afterwards, a handful of us met up with our fellow Earlham folk and spent a good chunk of the afternoon hanging out, playing Euchre and Carcassonne, drinking tea, and hitting our heads on the wonderfully decorative and incredibly low-hanging ceiling lamps. Charlie went back and forth to the post office to drop off the postcards that some of us wanted to send to friends and family. Another group of Earlhamites went with Andy and Eli to the Snaefell visitor center and went to see some nearby ruins of an old monastery, a forest (a very rare thing in Iceland), and the third tallest waterfall in Iceland, Hengifoss. Meanwhile, Kellan, Nic, Gail, and Faith spent the afternoon walking all the way from Egilsstaðir to Seyðisfjörður! Google maps puts this down as a 26.7 km hike which takes 5 hours and 48 minutes to walk.
The rest of us went to the Egilsstaðir airport around 5:00 pm to drop off the vans and wait to be picked up by the bus for Skalanes. After loading up the bus and heading out of town, we had a very scenic drive through the mountain pass which separates Egilsstaðir from Seyðisfjörður. Along the way we picked up our hiking friends, who had almost made it to Seyðisfjörður!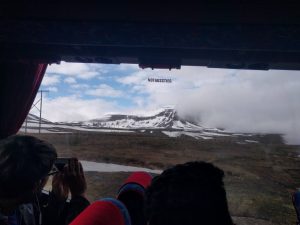 To get to the house at Skalanes, you need to traverse a gravel road and three rivers, so the bus dropped us off as close as it could get. From there, we walked for about an hour, and then finally arrived!
For dinner, potato leek soup, smoked lamb on bread (a traditional icelandic dish), smoked salmon on bread, unsmoked cheese on bread, and hard boiled eggs on bread. There was also butter. And bread.