Today we ventured back out to the rapidly shrinking glacier, Sólheimajökull. It was an incredibly beautiful day, which made our adventure even more lovely. We split up into three teams to collect data which we will use to measure just how quickly the glacier is melting. One group flew our handy drone and collected great aerial imagery. The other two groups hiked up the glacier with elevation platforms to measure how far above sea level different points on the glacier were. A year from now, many of those points will be noticeably lower.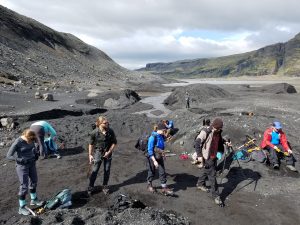 Preparing to Climb
As one might imagine, climbing an ice cube is no walk in the park. Our lovely glacier guides Gummi and Oddur provided us with crampons (essentially "ice-cleats") and mini-pickaxes. Without crampons, we would slide all over the place, but we were told the pickaxes were more "for show." After going over some basic glacier safety, Gummi took a group up the east edge of the glacier finger and Oddur guided another set of us up the west edge. It was a nice trek up, and it was warm enough to wear a single layer at some points. On our way up the east edge, Gummi pointed out some streams where we could fill up our water bottles with authentic, fresh glacier water. The two groups met fairly far up the glacier in the middle, and we had lunch on a giant ice cube. As Emi noted, we would be hard pressed to find a better lunch spot. After lunch, the groups switched paths and Gummi led us down the west while Oddur led the others down the east. On the way down, Gummi recounted coming to the glacier when he was younger and pointed out the general area where the glacier ended 5 years ago. It was easily 50 meters beyond where it ends now.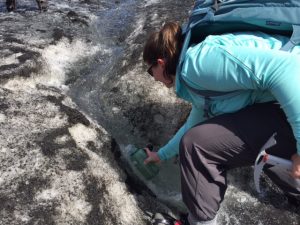 Glacier Water for Gail
After a warm day on the glacier, we came back to Vik and had a delicious curry and rice dinner prepared by Nic and Kellan. Tomorrow, we will have a cold day on the fissure volcano Laki, led again by Gummi and Oddur.