We have received, from Oxford Nanopore, the MinION. (Min-ION, not one-eyed yellow minions, get it straight.) This device promises whole-genome sequencing of microbes, viruses and archaea from soil samples we will collect at the Solheimajokull glacier. This device is extremely small and portable, and one sequencing run can be done on a laptop in 6-8 hours. One flow cell can run up to 12 samples at a time, and while the samples are being sequenced, internet access will allow simultaneous queries of a database that will determine what species were in our sample. Thus, in REAL TIME, we can identify the composition of the soil microbiome. This is a drastic improvement over prior methods, which involved sending 16s rRNA samples to a company and waiting for 2-3 weeks for results.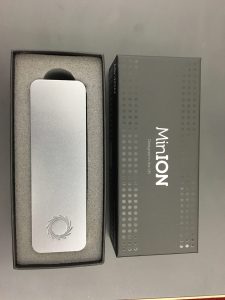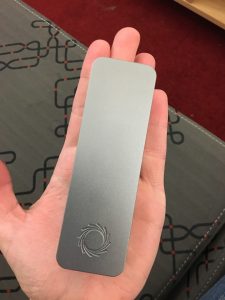 What kind of science are we doing with this device?
We will be collecting soil samples at the Solheimajokull glacier (near the town of Vik in Iceland). We want to obtain samples that have been "out of the freezer" i.e. not covered by the glacier for a specific number of years – 10, 20, 50, 75, 100, 150, 200, etc. We will compare the microbial populations present in these different soil samples and look at the type of soil and flora growing in these different locations. This will teach us how the land "recovers" once it is freed from a glacier.
This device will help us do this analysis on site and give us the data almost immediately. It's really new, cool and exciting. We're looking forward to learning about soil succession with the use of this device!
Blogger: Emi (Biology Professor and MinION hand modeler)