Today we drove from Reykjavik to the Solheimajoekull glacier on the south coast of Iceland to take soil samples and try-out flying our remote piloted aircraft (AKA drone). Groups of Earlham students & faculty have been working here for a couple of years measuring the shrinking extent of the glacier and taking soil samples on which we do 16S rRNA sequencing to characterize the development of soil microbes as the soil develops after being exposed by the receding glacier.
The red circle on the image is the area we work in, for a sense of scale the circle is about 2km in diameter.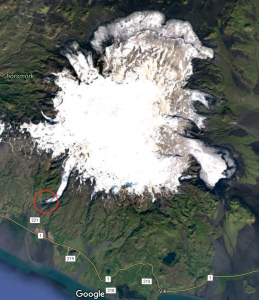 This picture was taken from the ridge on the East side where we were sampling. We are almost always wet and cold when we are working here, but all a person needs to do is look around and take in the amazing view to feel pretty good about being there.

After finishing we piled back into our vehicles and drove to Vik where we will be staying for the next two days. Emi made a great dinner for us and now we are organizing the samples and data we collected today. Tomorrow we go to Heimaey, an island off the South coast to hike the two volcanoes located there and test our new elevation platform.