Last night a group of us decided to go camping. We arrived at the camping spot around 11 pm feeling a little bit tired after the hike. However, we didn't want to sleep right away, so Arlo and I went exploring our surroundings while the rest were playing Euchre (well, except Faith who went to sleep.)
The next morning started with Eli's alarm and then with the pleasant sounds of the nearby waterfall. After some morning stretching, we decided to have a few minutes alone to enjoy the beautiful scenery around us. We then headed back to the house for breakfast and joined the 9 am briefing meeting.
Today marked a special day for the entire nation of Iceland. At 1 pm, Iceland marked its debut on the World Cup against Argentina. To be part of such occasion, Oli made sure we had a bus pick us up and drive us to Seyðisfjörður where we would watch the game. While most of us were getting ready for the kickoff, Dan, Emi and I had already our Iceland jerseys and scarfs on. Before leaving, Dan sparked our excitement by presenting a brief history of Iceland's national team.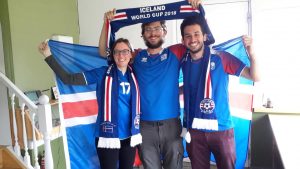 We arrived at Seyðisfjörður around noon. Having one hour available before the kickoff, we went to a local market and then ate lunch at a nearby restaurant. At 1 pm we were at a community center were locals from Seyðisfjörður had set up a giant projector to watch the game. Finally, the moment I had personally been waiting since I joined this program arrived. It was kick off time. After a slow start, Argentina got the early lead with Aguero. Luckily, Iceland responded right away, and after four minutes Finnbogason equalized. Everyone stood up celebrating and chanting; it was an unforgettable moment. Those were the highlights of the first half.
The second half began with Argentina pressing up high and trying to get the lead again while Iceland was well organized and closed all the spaces in defense. Then, in the sixty-fourth minute, Argentina had a penalty awarded. The community center went quiet waiting for Messi to take the penalty. And then, Halldórsson saves the penalty, and everyone is again celebrating and chanting as if Iceland scored again. The last minutes of the game were nerve-wracking as we witnessed Iceland draw its first ever World Cup game.
After the game, we went to Oli's house where his son, probably inspired and motivated by the brave performance of his country, invited us to play football in one of the nearby fields. Some of us accepted the invitation, and we decided to play Europe-USA (if you were wondering which of the teams won, Europe did, twice (: ). It was really fun playing football again, even though we quickly realized we were out of shape. Yet, we continued to play until it was time to get back to Skálanes.
All of us, except Andy who decided to run from Seyðisfjörður back to Skálanes, got rides in groups from Oli and Charlie. It is worth mentioning that it took Andy only one hour and twenty-four minutes to complete the run (17.4 km) and reach Skálanes before the last group did. Once we were back, we had a delicious meal cooked by Ahsan, Nick, and Sallie, and discussed the plan for tomorrow. After dinner, another group went camping while we continued working, spending time with each other, and resting.
To conclude, today was an unforgettable day for Iceland and me personally. Stay tuned for another update tomorrow, and as always Áfram Ísland.