After a few days of glacial hiking and science at Sólheimajökull, we enjoyed a relatively laid back and unstructured day exploring the history and environs of Kirkjubæjarklaustur (Klaustur for short – pronounced something like "cloister"), a tiny village near the South coast of Iceland.
We're staying at a small guesthouse on a farm about half an hour out of town, nestled between old craggy lava flows and sheep pastures with a clear view of two massive glaciers – Mýrdalsjökull to the West, and Vatnajökull to the East. The uncommonly clear weather coupled with a shortage of beds led a few of us to sleep out in a tent last night, myself included. The sheep's bleating, bird's singing and the midnight sun conspired to keep us up, but the cool breeze, fresh air and past few days of hard work and hikes aligned to allow us all a sound night's sleep.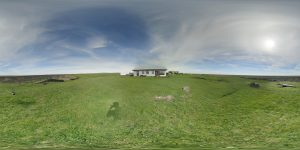 Our itinerary today was flexible, but we begun as a group by visiting the memorial chapel for the 1783 eruption of Laki. While preparing for the trip, we all read the book Island on Fire, which detailed that particular eruption as well as shared information about Volcanic processes in general. The town of Klaustur was the site of Jón Steingrímsson's famous "fire sermon," where his congregation prayed to be saved from the eruption as lava flows advanced all around them. Their church was spared, and their survival was touted as a miracle and lives on in the Icelandic consciousness.
The nearby Skaftárstofa information center featured an interesting exhibit on Icelandic moss, which we've been seeing a lot of. It detailed different kinds of moss and the conditions in which they grow. The staff at Skaftárstofa also showed us a short film detailing the dramatic events of the 1783 eruption of Laki.
Following our time at Skaftárstofa, the large group split into several smaller groups as we explored the trails weaving throughout and around the town. A number of us took the scenic "Love Path" that wound up and around the cliffs above the town. This trail included a few sites of note. The tallest tree in Iceland was visible from the trail, a sitka spruce measuring approximately 25 meters tall (around 80 feet – shorter than plenty of trees on Earlham's campus!). Other highlights included Systravatn, a pond where nuns bathed, Hildishaugr, a fabled burial mound (more likely a lava column), and Kirkugólfið, the "church floor," where the tops of columns of basalt protrude from the earth and look like a man-made construction.
Some other folks explored other trails as well. After our various hikes, we took a short ice cream break and headed back to the guesthouse. A delicious dinner of mac and cheese was prepared by Charlie, and for the evening we set about packing up and preparing for the long day of transit ahead. Tomorrow, we'll be making the long drive to Egilsstaðir along the fjords of the South East coast.