Ethan here!
Today's blog post will encompass both today, and yesterday's adventures!
Yesterday was our trip to Klauster. We started at a museum where we saw a documentary detailing how travel around the island was orchestrated in the 50s and 60s. It was done mostly by horseback, even when the first car on the island was used there were no roads; it often got stuck and then had to be dragged out by horses! The museum also detailed the various mosses that we see covering almost all of the island!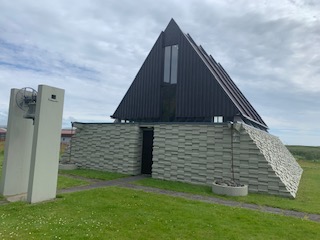 Our second stop yesterday was a visit to the church built in memory Jon Steingrimsson's church, who's story was detailed in our summer reading before coming here, Island on Fire. During the eruption of Laki in 1783, lava was bound to surround and engulf the town. The people of the town all sheltered in Jon's church, and after his powerful sermon and prayers from all the townsfolk, the lava changed directions and was extinguished by the river on the other side of the town!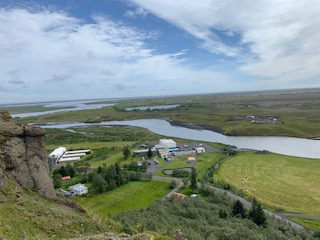 The hike we took to get that shot of the town had a really neat waterfall that we were able to get to the top of, and even drink out of! The end of the hike also had the tops of columnar basalt that you could walk on, as opposed to the sides of them that we saw yesterday.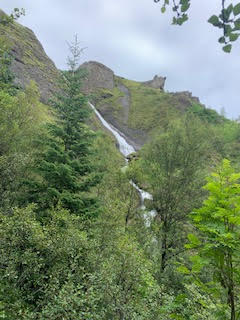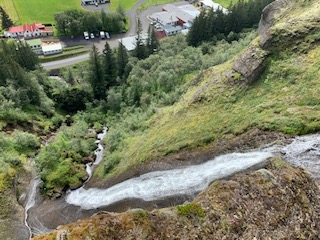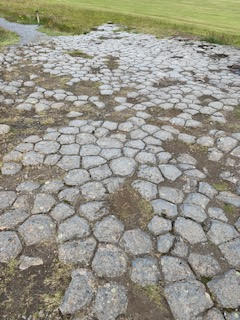 Today's trip, however, was less exciting, but there is so much to look forward to! We left Vik and arrived to Skalanes after a short… 8 hour drive. We took many breaks along the way in small towns, as well as the ice lagoon to break up the drive and make it a bit more manageable!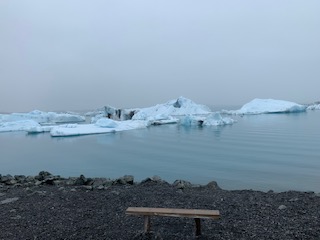 – Ethan