We are in Iceland! It's been an adventure getting here with speed bumps at almost every step. But, we are excited and already have two days of field science in our rear view mirror.
Friday, 6/4
Richmond, IN -> NYC
We met at EC at 4:00 AM to start our drive to Chicago. The (very generous) Doug Harms came with us so he could drive the Earlham van back to Richmond. Difficulties began during our first flight from O'hare to JFK. Weather grounded the flight in Buffalo, NY. By the time we got back in the air and landed in NYC we had missed our connection to Iceland. While Seth, Emmett and Craig went to find lodging for the night, Charlie, Tamara, Davit and Yujeong stayed at the airport to ensure we were got booked on the next possible flight.
Saturday, 6/5
NYC -> Iceland
After waking in a very swanky Best Western, we confirmed our (rebooked) 8:30 PM flight to Iceland. We spent the day at the recently refurbished TWA hotel, which is connected. Played Carcassonne. Ate crepes. Would recommend.
Saturday evening we finally boarded our flight to Keflavik, the only international airport in Iceland. An uneventful flight left us arriving in the country at 6 AM local time.
Sunday, 6/6
KFK Airport –> Cabins in Höfn
Iceland has only recently started lifting Covid-19 travel restrictions. We each brought vaccination cards and recent negative test results. Then, after going through customs we each had (shockingly painful!) COVID tests. We were released with the personal responsibility to quarantine. Within 6 hours we had each received negative results and were free to move about the country.
During our quarantine we met up for a (socially distanced) breakfast with our friend Gummi
who lives in Reykjavik. Since we couldn't enter stores or restaurants Gummi helpfully acquired delicious local food to sate our each grumbly tumbly.
Fed and hopped up on coffee, we were ready to finally get on the road. In our fully packed rented van we took off for our first destination: Sólheimajökull (AKA Solo), a beautiful glacier that is among the easiest to access on the island. Undaunted by the rain and wind, we were ready to engage in some first class field science!
The work at Solo is part of Emmett Smith's research into the changing microbiome diversity of the region. The glacier has been receding for over a hundred years with the location of its leading edge being well documented over the years. Areas closer to the present location of glacier have been exposed to the air for less time than those further away. As such, they have had less time for moss, flowers, soil, etc to grow. On Sunday we took soil samples at about 10 locations. We will use the samples to meaure soil properties (pH, Nitrogen/Potassium levels, etc). Additionallty, we will sequence DNA at each site looking for particular signatures. (More details in the upcoming paper!) We have been returning to the same sites since 2014, investigating how the soil has changed through the intervening years.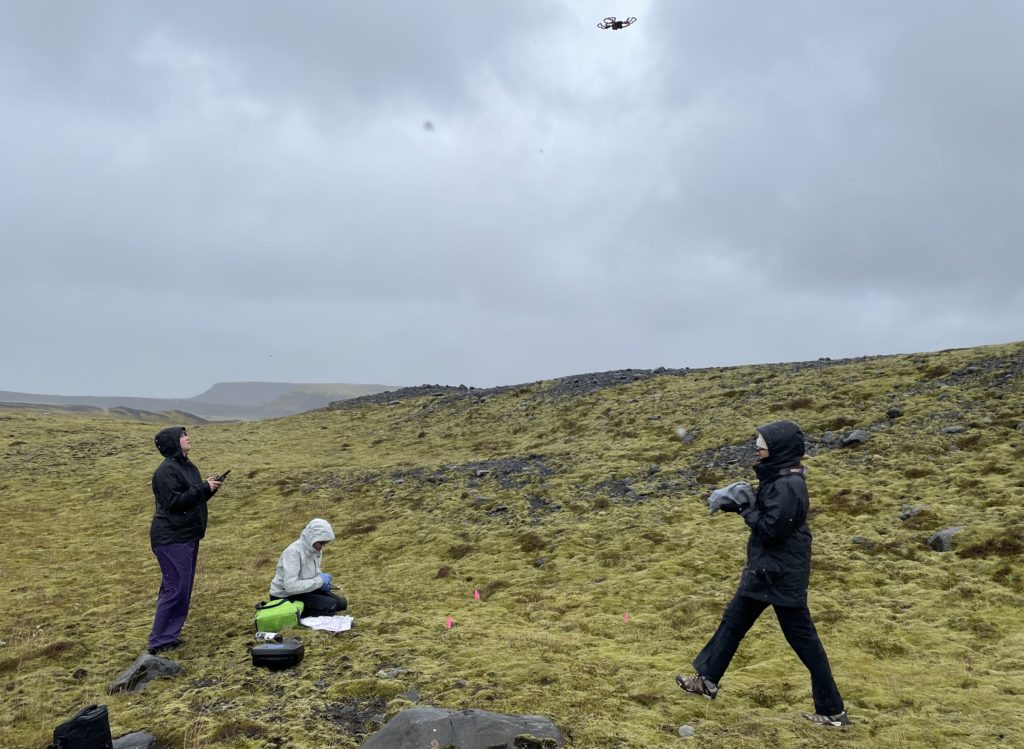 The field work was cold and wet, but we knew we could do it! We put our backs into it! We piled back into the van and drove four more hours to Höfn where we had reserved two very tiny and very dry cabins. It was time for our first good night's sleep since being in Richmond.
Monday, 6/7
Höfn -> Skálanes
Turns out these little tiny cabins don't have everything! We all had to share one teeny-tiny-itsy-bitsy towel … not all at once. But still!
Loaded with oatmeal and more coffee it was time to return to the field. So, rainier, colder and windier than Sunday? But you know our motto: Don't stop, get it, get it!
So, we drove back along the ring road in the same direction we had just come (I know … but trust me, this itinerary makes sense). This time we were collecting samples near Kvíarjökull.
Another spectacular glacier, Kvíarjökull is a finger of ice splitting off of Vatnajökull (the second largest ice sheet in Europe). We split into two teams (as we had done on Sunday) to get to the sample site more quickly. This was our first year visiting this site, so it's just the beginning of a much longer study! We braved the elements, collected soil from 12 sites and ran back into the van to strip off our soaking rain gear.
As I write this, we are headed toward Skálanes where our friend Olí is going to make us some delicious stew! (Oh my! We just saw our first reindeer!) It's certainly been a rainy and tiring beginning to the trip, but Iceland is so beautiful, our spirits are quite high. Speaking of spirits, we're about to stop at the local vínbúðin. (look it up …)