The weather has been unbelievably fabulous for three days on a roll. On the morning of Monday, June 3, 2019, the IFS group said goodbye to the Igdlo Hostel in Reykjavík and headed southeast. Our final destination for the day is Heimaey, a small island to the south of Iceland that can be reached by ferry. On our way to the ferry station, we stopped at the Commonwealth farm and a dam.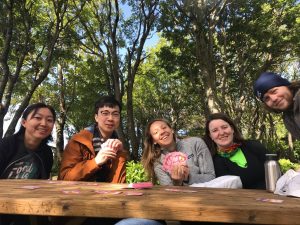 After packing and loading the van, we played cards while waiting for the people who went shopping to come back at the Igdlo picnic table.
It was noon and windy when we got off the car! The Commonwealth Farm is a replica of what has been dug up at the archeological sites in Iceland. We visited with the goal of getting a better idea of what we will be working with at the archeological site in Stod. The replica consists of a turf house and a small church next to it. In the turf house, we found items such as clothing, swords, wools, benches, and "bedrooms." It shows how people back then might have lived and worked. Some of us commented it as no privacy because mostly everyone slept on a long bed bench altogether, with the one or two exceptions of high-status people sleeping in a small closet with space to lay down.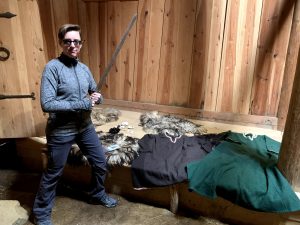 E is holding a sword in the turf house.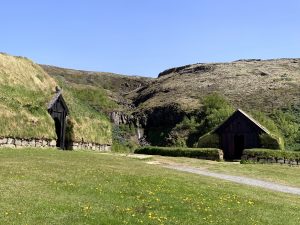 The right is the small church and the left is the turf house.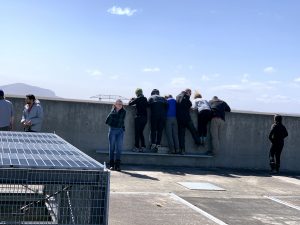 What are they looking at?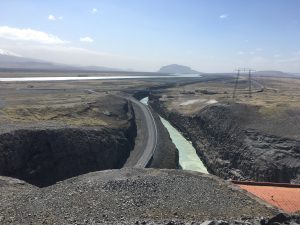 The dam!
Then, we had very much fun searching for a former forest that was destroyed by the eruption of Hekla in 1104.
Why was it fun?
Our van almost got stuck in the soft gravel. Fortunately, everyone got off the van except Charlie, the driver, and we were unstuck. The image below shows the track.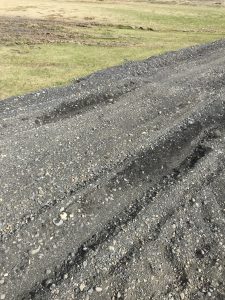 Our search for the forest was stopped by a small creek, so we enjoyed the view and played skipping rocks.
It was time to hop on the ferry. The experience was exciting for some of us, but not so much for those with motion sickness. I enjoyed bird watching with binoculars and the ocean breeze!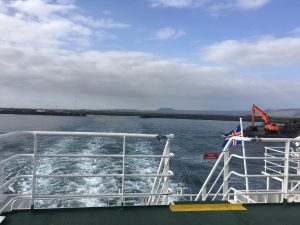 The tail of the ferry producing waves.
We arrived at the Heimaey Hostel save and sound. Thanks to Kathryn and Jordan, we had delicious pasta to fill our stomach before going to bed!