In the morning we said goodbye to our guesthouse outside of Kirkjubæjarklaustur and the herd of sheep that hung out around the yard and began our longest drive of the trip. A six-hour adventure past outlet glaciers and picturesque fjords all the way to Egilsstaðir in eastern Iceland.
We had a couple goals along the way including scouting out a different outlet glacier for future research, seeing a pretty glacial lagoon, stopping at the ancient Viking site at Stoð and finally getting to our guesthouse in Egilsstaðir. Also Emi challenged everyone to stay awake the whole drive in order to soak in the incredible scenery. Not to brag but I met the challenge head on and yes the dramatic landscape was worth it.
As mentioned before we are studying how nature seeps back into previously frozen/glacial-covered soil. We look at the soil composition at sample sites where the glacier was in 1996 years ago all the way to where it was pre 1900. This year and the year before we have been studying the glacial forelands of Solheimjokull. However, some colleagues from other schools suggested another outlet glacier that had more constrained movements and less tourists.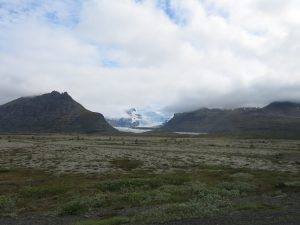 We decided to do some scouting and made our first stop of the drive at Kvíárjökull. The outlet glacier was stunning and in the clear weather we were able to see all the way up to where the cascade of ice disappeared into the mountains.
After walking around for a bit we got back in the cars and headed about an hour and a half down the road to Jökulsárlón a lake filled with icebergs that has formed in front of a melting outlet glacier.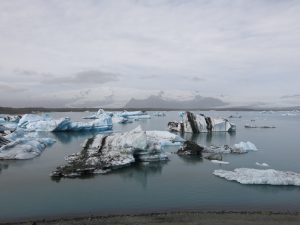 After the lagoon we hopped in the vans for the long drive to the east. The landscape was breathtaking as promised. We stayed on Route 1 which hugs the coast of Iceland. With the mountains on one side and the ocean on the other we drove through little fishing villages tucked back in the fjords and passed grazing sheep and reindeer.
Our last stop at Stoð was a picturesque valley next to the ocean that is believed to be the first Viking settlement on Iceland. Archaeologists have begun digging there and unearthing ruins and tomorrow a group of us will return to extract some ancient DNA samples from the soil. After checking out the dig sites and soaking up the sun and the stunning valley we headed to our final destination for the day.
At our guesthouse in Egilsstaðir we were joined by Gail Connerley who flew in from Indiana to complete our four leader powerhouse team. We were also joined by Nic Arnold and Kellan Steele who were on the 2016 trip to Iceland. With our group finally complete we hung out into the evening, playing games, working on various projects as the fog rolled in off the mountains surrounding us.