The day began like many others at Skalanes, grey and rainy. Despite the dreary day Emi, Neil, and I set off to visit an archaeological dig a few fjords south of us. The relentless rain kept the rivers high, forcing us to make the trek out to the parking lot on foot yet again. Conditions were slightly better today, and we kept a quick clip, arriving at our car in under an hour, hitting the road at around 8:30. Along the way we got to go through a 6 km long tunnel dug through a mountain, which I found far more impressive than the tunnels of my native Pittsburgh. Apart from the tunnel we arrived without incident, and were greeted by the sight of several heavily clothed figures kneeling in the dirt.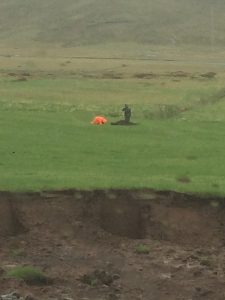 We were then introduced to Bjarni, who explained the goals and methods of the dig, and took us to several holes pointing out the various tephra they were using to date the soil. It continued to rain. After the tour we enjoyed some excellent pizza and fries in Brekkan, a restaurant in the town of Stöðvarfjörður with the dig team. Following lunch we stopped in Egilsstaðir to pick up Mark and Susana, Earlham photographers who will be recording the rest of our travels, and returned to the house on Skalanes. During the afternoon the rain let up enough that Oli was able to ferry us  and all our gear, back in a single trip! And the sun came out! Although briefly. But it was much appreciated.
Meanwhile back at the ranch, porpoises were spotted in the fjord. Also various bug fixes in software, progress.