It feels good to be settled for a bit after several long days of travel. And what a place to settle. [Audible deep breath in…and out]
Since we are here for some time and there is much work to be done, we started our day by organizing science gear and planning the research we will do here on the property as well as some of the experiments we will perform on soil samples we collected at Solheimajoekull glacier. Our group has also settled into a nice cooking and chore rotation.
After lunch today, Oli and Rannveig took us on a walk to the cliffs east southeast of the house. Oli shared with us the history of Skalanes, information about the bird colonies here, and the role that lupine plays in fertilizing the soil in Iceland.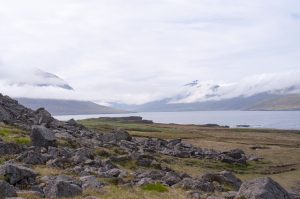 We saw lots of fulmars, a type of ocean bird; kittiwakes, a type of gull; and puffins, adorably cute. We have been enjoying the unique sounds of the snipes, discovered that male eider ducks make sounds similar to owls, and we've been trying to steer clear of the Arctic terns as they work to protect their nests. I am still researching which bird pooped on me as we began our walk. [Note: this is the second time a bird has pooped on me while on a trip with Charlie; at least we weren't on our way to visit Earlham alumni and donors this time!]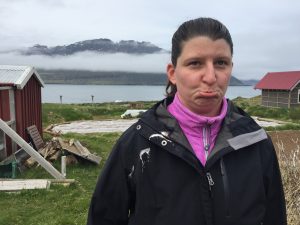 While Skalanes hosts student and faculty scientists and outdoor education enthusiasts like our Earlham group, it also relies on tourism. Today, we enjoyed welcoming a group from a tour boat who came to hike a bit, take in the views of the fjord and the cliffs, and do some birding.
Tonight, several are enjoying the sauna before a full day of science tomorrow. I'm heading to the showers. I think it was the tern.
Save