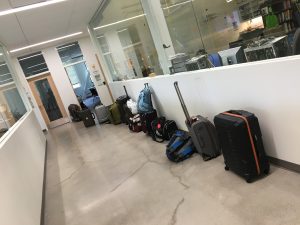 All my bags are packed, I'm ready to go!
We're just about ready for departure. Three of us leave this afternoon for flights out of Chicago, and the rest of the crew departs early tomorrow morning: Earlham –> IND/DAY –> JFK (7 hour layover) –> KEF –> Reykjavik!
It's been a very busy 1.5 weeks, but, ready or not, we will all be in Iceland in less than 48 hours. We can anticipate cloudy weather in the 40s and 50s. We're looking forward to experiencing another place, expanding our horizons (culturally, scientifically, emotionally), eating fermented shark, implementing our algorithms and devices, going back to Skalanes, to run in Iceland, seeing birds (especially Puffins), geocaching, standing on a glacier (and possibly sledding down it), climbing a volcano or two, lounging in a hot spring, and trying to learn some of the language.
Our gear is packed.
Our daily plans have been formulated.
Our devices are primed and charged.
Our sense of adventure is fully present.
Our Spotify playlist has been populated. What more do we need?
See you in Iceland!