Our biology and soil team has begun a practice run of the sampling, DNA extraction, and MinION sequencing protocols so that we are prepared and familiar with the process before we get to Iceland. We started by collecting soil samples from various places around Earlham campus: The Heart, the Japanese garden by Stout, the horse barn, the rain garden by the Wellness Center, and a popular social gathering place back campus. We used Maria, one of our elevation platforms, to record the coordinates of each sample site, and as a placeholder for the soil temperature readings we will take in Iceland. We put the samples on ice to preserve the living organisms within, since we are trying to identify what kind of biotic activity takes place and varies at each site, both here at Earlham and eventually in Iceland on Sólheimajökull. Back at the lab, we extracted the DNA.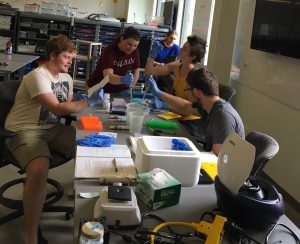 We also ran a gel electrophoresis and a Nano Drop to test the quality of the DNA. The former told us how long the strands were, and the latter told us how many nanograms per microliter of DNA we had in our samples. Both yielded positive results, meaning we have a good quality and quantity of DNA to put through the MinION.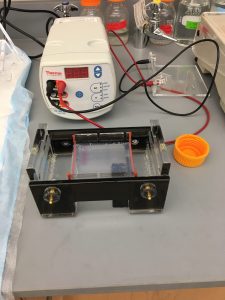 We had some technical difficulties at first with this new tech, but we made it work eventually and are now working on setting up the nanopore. We are almost ready to sequence the DNA and find out what microorganisms are living all around us! We had a great win the other day with QGIS. Though we had a rocky start, we were finally able to georeference our first map! Enthusiastic cheers echoed through the Turing room, and we all celebrated with a trip to Dairy Queen.